Return of a Champion
GR CH Hurricane Mackenzie DNA-VIP

Written by Joyce Maley
Copyright Joyce Maley, 1998
NOTE: This is a reprint from the January/February, 1999, issue of Bloodlines, an official U.K.C. publication. All pictures of Mackenzie were taken after his recovery. My thanks to Diana James, show photographer, who took the show picture. All other photographs were taken by the author.

This isn't about the greatest dog ever born. I won't even claim that it's about the best Chinook to ever enter the show ring--although I think he's pretty good. Instead, it's about the fortitude of the Chinook breed as demonstrated by one Chinook and his recovery from a life-threatening injury.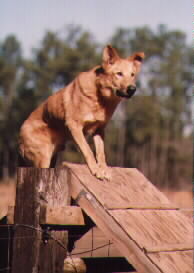 Mackenzie is very special to me. When he and his nine siblings were born they increased the entire Chinook population by 10 percent. This litter was the first I was responsible for and it was a very exciting time in the restoration of the Chinook breed. Singing Woods Ayla, Mackenzie's mother, was the only one of her litter to be bred. She came from a small litter, with the best prospect, a male, being killed in a car accident. In an already small genetic population, her litter would be the only puppies that would carry on her line. The father of Mackenzie's litter was North Wind Kodiac who went on to be the breed's first U.K.C. Champion and Grand Champion.

Mackenzie stayed with me as the rest of his litter went to new homes. He was a wonderful puppy who needed very little work being housebroken and only once chewed up anything. Unfortunately, his choice was to chew on a box containing a bag of Centipede grass seed and a box of 500 BBs--what a wonderful combination of things to be strewn about on a rust colored living room carpet. For the next several months, in between times when the vacuum cleaner was shooting newly discovered BBs at me, I kept waiting for the carpet to sprout.

When Mackenzie reached showing age, the Chinook was not yet recognized by the U.K.C., so there were few showing venues. I showed him at the first Chinook Owners Association Round-Up in 1990, with a somewhat average placement, and he went on to attain his American Rare Breed Association Championship. After that, he went back to being my parents' pet and yard dog.


Upon U.K.C. recognition of the Chinook, I showed Kodiac, Mackenzie's father, and Mackenzie stayed at my parents' house most of the time. By the time Mackenzie was seven years old I started showing him. However, with the Chinook being a rare breed, there was no competition for his majors around where I lived. In the summer of 1996, opportunity knocked and we attended the Chinook Specialty held in conjunction with the U.K.C. Premier. Mackenzie, showing for the first time with competition, won our National Specialty. What a tremendous feeling! He went on to finish his Championship and Grand Championship.

I showed Mackenzie only sporadically after that, since I now had some younger Chinooks that I wanted to finish. Early in 1998, Mackenzie moved back to my house. Everything went along smoothly until the afternoon of February 1, 1998. Mackenzie, who regularly enjoyed the top of two stacked 400 crates in my living room, jumped up intending to go into his crate. At the time I was reaching into the crate to get his feed bowl and I didn't see him coming. As he flew toward the crate he hit me in the back of the head with the top of his head. I fell back onto the couch and blacked out. I could feel the couch, but couldn't see or move for some time. As my sight came back I steadied myself and stood up. Other than a bad headache, I seemed OK--my Chiropractor has since said it was one of the best "adjustments" he's ever seen. Mackenzie also looked fine so I asked him to get into his top crate for feeding. He jumped up with his usual grace and ate dinner.


The next day seemed uneventful until late in the afternoon when Mackenzie started to come out of his crate. I was over on the couch and noticed him hesitating as if he could not figure out how to jump down. Using his collar I guided him out of his crate. When he reached the floor he was unsteady on his feet and couldn't seem to control where he was walking. I called my vet's office then took him right over. I steadied Mackenzie as he walked into the clinic. After an explanation of the previous day's accident, the vet looked at him and started some IV medication and I left him there for the night.

The next morning I received a call from my vet. I could hear the concern in her voice. She asked for me to get there right a way. Mackenzie needed to be transferred to the surgical referral clinic for emergency surgery. She said when she came in that morning Mackenzie looked up at her with his big brown eyes and wagged his tail, but did not move another muscle.

The whole way to the surgical referral clinic I worried that we wouldn't get there in time. I knew the nerves controlling his legs, which he could now barely move, probably went through the same area as the nerves controlling his heart and lungs. Every time Mackenzie tried to move he would whine in pain, an unusual thing for a Chinook. Once at the clinic it seemed forever until the surgeon came in to look at him. Mackenzie made no attempt to move from the examination table, but the surgeon could still get some reflexes to react in all four legs. Further tests revealed a disk rupture between vertebrae C-3 and C-4. Surgery was a must to save his life. The surgeon felt that since Mackenzie still had some feeling in his legs, surgery could restore his ability to walk, although there was no guarantee how much coordination he would regain.


A $1300 charge on my credit card and one surgery later, Mackenzie was ready to come home. He had spent one week at the hospital and they said he would probably need to be carried for several weeks--not an easy task since he was a 65-pound dog and the only way in or out of my house entailed stairs. He was fitted with a harness and was no longer supposed to wear a collar around his neck. For the next three weeks he could not stand and made few attempts to move around. After that, he slowly gained the ability to sit up and then stay on his feet as I steadied him to go outdoors. Linoleum flooring proved to be a significant challenge, especially if he decided to change directions. I still remember the first day, after several months of recuperation, that he lifted his leg to mark the bushes and didn't fall over--what a day to celebrate! Over time he re-learned how to walk, trot, do stairs, and yes, turn around on the linoleum floor.

Mackenzie recovered better than I ever thought he could and seeing a show coming up in September, I asked the surgical referral clinic if I could show him. I told them it would entail putting a collar on him while in the ring, but that he was an easy dog to control and would not need much incentive from a collar. They sternly warned me that it was important to not put pressure on his neck. I worked with Mackenzie to take voice commands so I would not have to use his lead to stop, start or make turns. On September 7th, 1998, Mackenzie and I walked up to the show ring gate.
When they called his number, I removed his harness and we entered the show ring. He glided effortlessly around the ring taking every command and never needing any tension on the lead. Competing against two other Grand Champions, he took his class. He then went on to compete with the winner of the Champion class and won Best of Breed. At 10 1/2 years of age, after a life threatening accident and 7 months of recuperation, he had made it back. It's difficult to think it could get any better, but it did--in that show, Mackenzie went on to win Best in Multi Breed Show.


My sincerest thanks to R. Randy Basinger, D.V.M., and the South Carolina Surgical Referral Service, in Columbia, SC. Mackenzie is only one of many animals that they and medical advances have helped. I am very grateful they were there when Mackenzie and I needed them. They not only gave Mackenzie a second chance at life; they also gave him the quality of life needed for us to enjoy it together.

Follow up - Mackenzie became the 1999 National Specialty winner, and ended up the year as the #1 Top Ten Chinook for 1999. He passed away at age 14, on January 29, 2002. His legacy can be seen in his children, including GR CH 'PR' Hurricane Chaser the #1 Top Ten Chinook for 1998 and 2000, and 2000 National Specialty Winner; CH 'PR' Hurricane Hunter, a trained Search and Rescue dog; CH 'PR' Hurricane Electra, OFA 'excellent', GR CH 'PR' Hurricane Tchoutacabouffa, OFA 'excellent', CH 'PR' Hurricane Starseeker, OFA 'excellent', and all the other wonderful kids he produced.