NBOB GR CH 'PR' Mystic's Hurricane Sydney TT BIS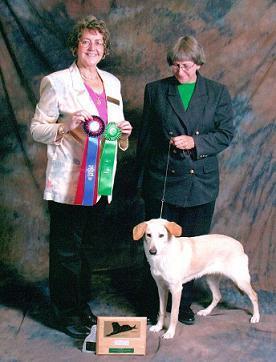 Photograph by Creative Weddings Photography.

2005 UKC National Best of Breed
NBOB CH 'PR' Mystic's Hurricane Sydney
Mystic's Hurricane Sydney won the 2005 Chinook National Specialty, under the Honorable Judge June Pasko. This was an especially significant win, since is was the largest Specialty to date, with 49 Chinooks competing. This is a proud addition to her Best in Show win a year earlier. Sydney is a result of the joining of the Rain Mountain line, through Rain Mountain Anasazi Mystic (Dixie) and the Hurricane line through Hurricane Janacek, who was the 2004 National Specialty Winner. The breeder, Linda Daniels, brought the two lines together, producing an excellent litter of puppies.
Sydney's selection from the litter was based on conformation and movement. This involved an extended process in which a half dozen senior breeders of different breeds, including one Chinook judge and two senior Chinook breeders, evaluated pictures on the internet. In addition, two professional handlers did hands on evaluations. Therefore, it is no surprise that she moves well, which is one of the main focal points of my breeding program.
Sydney is a natural in the show ring. She has always shown well for me and shows almost equally well with others showing her. Of all my Chinooks, Sydney seems to have better control over her body than any others. She has tremendously strong movement.
Sydney has OFA prelim 'good' hips and is CERF 'normal' (2008). As a very special bonus, Sydney became only the second Chinook to hold the new UKC title of National Best of Breed (NBOB), right behind her father, NBOB GR CH 'PR Hurricane Janacek.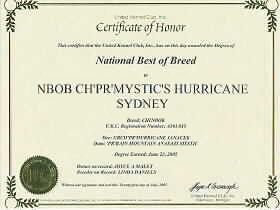 More information at Sydney's personal information page.